Status update:
My ancient Drobo array is only maintaining 25MB/sec transfer while still operating in its usual capacity.  I had estimated that i'd see rates as low as 35MB/sec.  This is only one folder and it alone will take 2 days to transfer. See you on the other side.
Status update:
I have an aged storage array in a critical roll on my network. I have wanted to replace it for years, but the expense and the effort always kept it in the future. Apart from the speed being underwhelming, it has always been reliable and problem free.  My recent backup problems have necessitated a new and much larger backup destination.  This created the perfect storm allowing me to buy a huge new NAS to take over the rolls of my current slowpoke.  Thus freeing my old, slow, but reliable array to act as solely a backup.  This will breath new life and impressive capacity to my infrastructure and finally for the foreseeable future put an end to my local backup capacity issues.
Some of the preparations involve typology changes.  Changing the very roadways and turnpikes of my network. If you are doing a performance upgrade, might as well squeeze out all the juice (link aggregation, etc).  This upgrade is so big it will probably take the entire weekend just to prepare and rest of the month to complete!  what could possibly go wrong?  I prefer to think of all the things that will go right when it's done.
art, Culture, hardware, Raspberry Pi, Recreation, retro, revolution, Science, Security, Software, technology, Travel, Wi-Fi
So I did not "complete" my hat until very late Friday when i finally got it to announce its link status on its new set of 14 segment displays.  It performed admirably all weekend.  Thanks to Paul for safely transporting it to and from Vegas. I must also thank Stephen for his late night help on Wednesday. (tacos are not enough)  Without his amazing soldering, i'd still be trying to figure out what i had done wrong.  Here are some pictures from that night and the con to follow. . .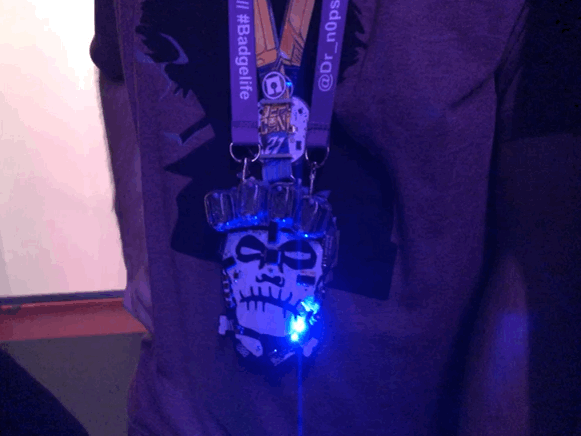 Continue reading

"Defcam 2.0 Preparation and more from Defcon 27!"
Status update:
I'm back in Vegas for Defcon and it's going swimmingly. so much so that i might get some actual swimming in.
Thanks to the late night help of Professor Franklin i have improved and redeployed the Defcam!
It was an incredible surprise visit to Comic Con!  Exhausting and exhilarating!  I finally made it to a Simpsons panel thanks to a very special fan of my own who provided me with a most coveted invite. I saw some incredible costumes, amazing artwork, and talented performers.  I bought too many t-shirts and not enough comics and artwork. I went to an awesome panel on building communities in Sci-Fi and it turned into just an insightful talk on all manner of writing topics by some incredible writers (only some of which i have already read).  Let's just say that i have a pile of new books to read now.  Until next year!
Continue reading

"Comic Con 2019 wraps up!"
Finally done with the work part, i am able to explore the con. panels, shopping, and incredible costumes, oh my!
Are you getting ready for Defcon? I was recently given some old photos from some of our early days.  Find me there!