I thought i would give these informative video things a go. let me know how i did.
The amazing people behind Folding@home have set their sights on COVID-19.  Their efforts are to better understand how the SARS-CoV-2 virus that causes COVID-19 can be targeted with small molecule and antibody therapeutics.  Got any computers that aren't doing anything?  join up.
The Mac client needs work to support GPUs, but my stats are rising!
I got out to vote a little later than i hoped and encountered a longer line than i have ever before (at least from voting).  Only 55 minutes, nothing like some lines i have heard about. I got to play with the new electronic voting system.  "It's not connected to the internet" was the response that i received when inquiring into the device security.  I have high confidence of the paper trail on these units, but I imagine that these machines do some sort of tabulation.  Unless we actually count the paper ballets, it is those tabulations that we are expected to trust.  These tabulation are trivial to manipulate if the devices are tampered with.  "Don't worry, it's offline" dissuades none of these fears.  Here are some pictures i took.  Not pictured are the 2 broken units that were taped off at my precinct. Also, i was told that they should not have allowed me to take these pictures.  i don't know if that is true, but they did not seem to mind at the time.  (i wasn't wearing that shirt at the time)
This particular ancient server has stood as the glue holding several ancient record keeping systems together.  Today marks the last day that it was operating.  I supported this computer for almost it's entire lifespan.  This Dell ran consistently for over 10 years with very little trouble.  Now your watch is over.
I have been retiring or upgrading unsupported systems all year. it's to know that all the critical systems are up to date.  Let this be yet another warning if you are running Windows XP, Vista, 7, or 2008 Server (or anything earlier), you should upgrade immediately if you are online in any capacity.  Same goes for macs older then 10.13 (High Sierra). Seriously, don't let it become a problem.
Status update:

For the first time in i don't know how long, i have enough backup storage to backup ALL my critical data and even some less critical data.  This also marks the end of my OS X Server.  From a graphite G4 through so many minis, I have always had an OS X Server on my network. . . until now.  I left the label from its previous installation while it was in operation.  This mini i inherited the way i acquire so much equipment, it's previous owner thought it was broken.  I tried to explain, but i wasn't going to say no to this lovely unit.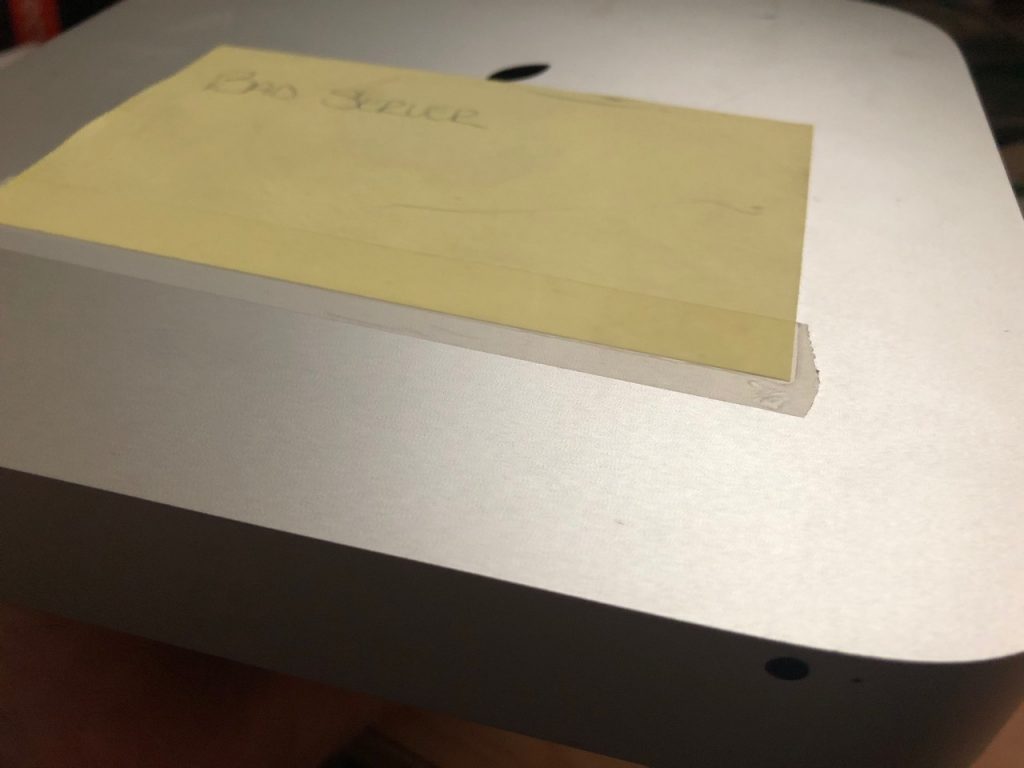 Status update:
After almost 10 days of non-stop transferring, we have finally (almost) reached the bottom.  This makes it almost 16TB transferred.  It is almost time to plug the Drobo into the Synology and start using that 16TB volume as a backup!
Status update:
My ancient Drobo array is only maintaining 25MB/sec transfer while still operating in its usual capacity.  I had estimated that i'd see rates as low as 35MB/sec.  This is only one folder and it alone will take 2 days to transfer. See you on the other side.
Status update:
I have an aged storage array in a critical roll on my network. I have wanted to replace it for years, but the expense and the effort always kept it in the future. Apart from the speed being underwhelming, it has always been reliable and problem free.  My recent backup problems have necessitated a new and much larger backup destination.  This created the perfect storm allowing me to buy a huge new NAS to take over the rolls of my current slowpoke.  Thus freeing my old, slow, but reliable array to act as solely a backup.  This will breath new life and impressive capacity to my infrastructure and finally for the foreseeable future put an end to my local backup capacity issues.
Some of the preparations involve typology changes.  Changing the very roadways and turnpikes of my network. If you are doing a performance upgrade, might as well squeeze out all the juice (link aggregation, etc).  This upgrade is so big it will probably take the entire weekend just to prepare and rest of the month to complete!  what could possibly go wrong?  I prefer to think of all the things that will go right when it's done.