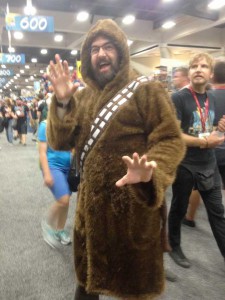 Our visit to San Diego is over, but the memories live on. I usually post as I go, but the cell service was so atrocious at the convention center, I couldn't do any more then text from the convention floor. Here are some of my pics.  I think i'll start with the bath robe I almost bought.  It was luxuriously soft and made me look like my favorite Wookie.
This year I explored the free open to all NerdHQ that was set up at Petco Park.  it was pretty cool with lots of video game demos, panels,  and other neat stuff.  Some of the neatest was a display from Stupid Buddy Studios the stop motion guys who bring us Robot Chicken, among many other fun projects.
This guy actually controls the camera setup during the shoots with this modified Nintendo Power Glove. Love the retooled retro cool.  I also learned about the culture of their office.  It is themed like a scout troupe complete with patches awarded for projects completed and woodland wall paper in their LA offices.  See some of the patches sewn into uniform shirts reminiscent of brownie uniforms of the 80s.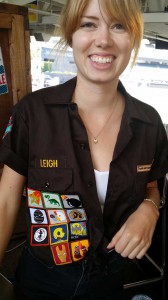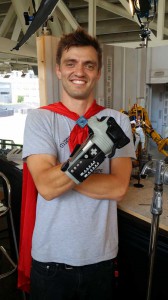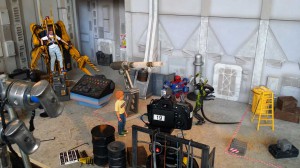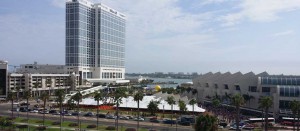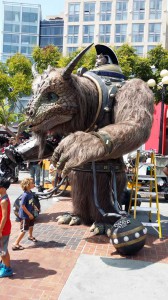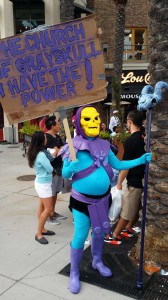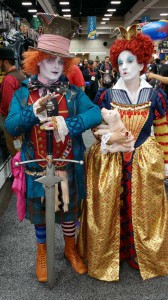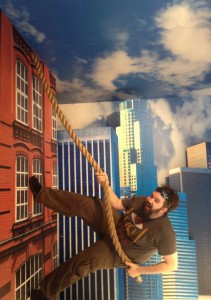 Of course I love it when the locals get in on the fun. See the ingenious technique used by a local cafe to get extra tips.  (DC was killing it)
Even Samsung had an amazing superhero inspired display made of their amazing devices.  Last, but certainly not least. . . Huge Thanks to Jenn!